Wiser Oner
Already an accomplished graffiti artist, Wiser was introduced to Body Painting in 2006 by master bodypainter Mark Reid. With encouragement from Mark and others he began to bring his wildstyle graffiti to the human body combining two artforms with astounding results.
Since then he has completed numerous creative works including phenomenal in studio conceptual pieces, countless live freestyle pieces done as entertainment, and some award winning competitive works.
He has done work for clients such as  Syfy, NBC, TruTv(Full Throttle Saloon), Clear Channel, Playboy, Makeup Artists Magazine, Tuaca, Absolut, Bacardi, Ed Hardy, Tapout,  Penn and Teller, Jabbawockeez, Comedian Russell Peters, and many many more…..He also paints at huge destination events like Sturgis Motorcycle Rally at the Full Throttle Saloon, Mardi Gras, etc. His work was also featured in the 2013 SyFy series "Naked Vegas".
As an International Instructor Wiser teaches classes on his graffiti style bodypainting  at many face and body painting conventions and workshops around the US and the world sharing his love for the artform of graffiti with everyone he meets.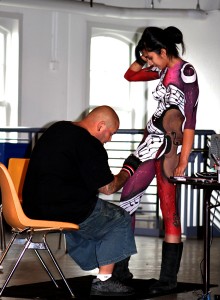 "My life has been filled with many drawbacks and challenges all of which have made me who and what i am today, so i know that even the most painful and trying of times can can pave the way to the happiest.  Hip Hop did truly save my life. Hip Hop taught me how to learn, connect and communicate with the world around me and relate with others who felt the same love for the artforms that i did. Through learning these artforms and the help of friends, i have been able to follow my dreams and become a professional artist and though in reality it is way more work than any regular job, i get to do what i love and i wouldn't trade it for anything. " – Wiser

Watch Wiser in action on Syfy's Naked Vegas.